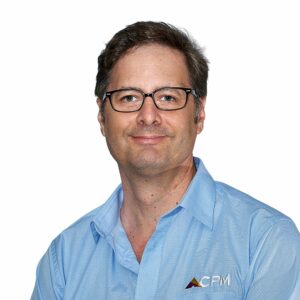 Stephen Uhr is the Chief Executive Officer of the consolidated CPM group (which currently incorporates CPM Advisory and Project Management, CPM Civil, 4 Hearts and 88 Limestone)
His primary role is to align our strategic direction with the services our clients need, to ensure all clients receive outstanding service from CPM and to ensure our staff can thrive. 
Stephen has a variety of industry experience including; Construction, Engineering, Professional services & Design, Property/ QS, Legal & Insurance, Automobile/Logistics, Banking and Digital. This experience spans Australia, UK & Europe and Asia. Stephen has a strong commercial background, he was admitted as a Solicitor in 1998. Stephen uses the best of that legal training (conceptual thinking, data based decision making & great communication) to solve commercial problems. He aligns strongly to our values of People First and Collaboration.  His approach always starts with asking Why… Only once he has understood the vision and purpose can he optimize the team involved to achieve high levels of performance. He embraces a challenge and is an expansive thinker, he is entrepreneurial at heart.
Stephen is interested in new technologies that can be practically implemented to solve client problems. He is keen to help solve environmental problems to ensure that the legacy we leave is a positive one.