Project

Port of Brisbane International Cruise Terminal
Location
Brisbane, Queensland
Client
Port of Brisbane Pty Ltd (PBPL)
Contract Period
March 2017 to Mid-2020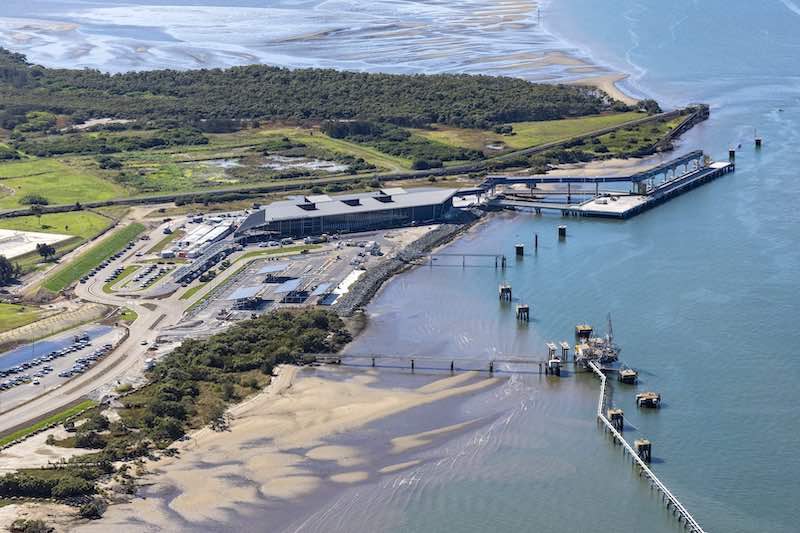 KEY ACHIEVEMENTS
CPM developed an innovative procurement strategy and delivery plan that allowed flexibility in award which led to an approximate capital saving of 15% over the traditional approach, whilst achieving better outcomes for stakeholder and quality and reducing risk to the client.
The team successfully managed the multiple project interfaces which included marine based dredging and wharf infrastructure, land-based civil and sea walls and building structure.
PROJECT DESCRIPTION
Port of Brisbane Pty Ltd (PBPL) developed a new $177 million cruise facility for Brisbane and Southeast Queensland near the mouth of the Brisbane River at Luggage Point. The proposed facility can cater to cruise vessels of all sizes and will also enable mega ships (vessels longer than 270m) to utilise Brisbane as a base port, transforming the city into a major cruise destination. 
The project included the funding approvals, planning and delivery of the new cruise facility and includes:
Cruise terminal building
Deep-water wharf and associated marine works including 70M long access bridges, which is linked to the operations yard to the wharf
Civil, utilities and landscaping works for the site
CPM was initially engaged to project manage the PBPL's Market Lead Proposal (MLP) approvals submission under the Queensland Governments MLP framework. The PBPL was granted approval to proceed with the project from the Queensland Government, with CPM's engagement extended to include transaction management, planning and delivery phases of the project.
CPM undertook the planning and technical investigations, progressing detailed design and engineering work and liaison with key stakeholders.
Once the engineering and the stakeholder requirements were aligned the delivery strategy was implemented to tender and award the main project elements and progress to construction.
CPM worked closely with PBPL throughout the delivery phase providing key resources in project and contract management and engineering through to the successful completion of the cruise terminal in April 2020.
CPM developed an innovative procurement strategy breaking the scope into three main contracts to align with contractor capabilities. For example, the wharf portion of the contract was awarded to engage a specialist maritime contractor for this technically challenging project. The wharf facility consists of a series of linked structures; 2 x access bridges, a narrow wharf and a wide wharf plus the support structures for the elevated walkway. The maritime scope also included the design and construction of 4 x 'monopile' mooring dolphins, unlike any built in Australia previously.
Develop and prepare in conjunction with various PBPL departments the MLP Stage submission to secure the go ahead for the development
Develop, recommend, and manage project governance, procurement and project strategies
Project and Design management for all aspects of the scope development, procurement phases of the project and construction phases in conjunction with PBPL Engineering
Develop and prepare project plans, master programme & sub-programmes, tender documents and budgets in accordance with prescribed PBPL requirements and systems
Engage via PBPL and lead multiple consultants, designers and contractors.
Lead, facilitate and manage project meetings, workshops and stakeholder working groups
Risk workshop facilitation and management
Insurance recommendations and workshop facilitation
Design management and input to and management of technical reviews and Safety in Design
Contract Management – procurement & tender processes, negotiation, and formation
In the delivery phase CPM provided key project delivery staff to assist PBPL in the delivery of the work through to completion including Area PMs, Project Engineers and Contract Admin roles.
When working with consultants we look for staff who fit within our culture and who are able to get on with our external and internal stakeholders – and that's how it works with CPM. They are a friendly, very capable group of professionals that provide a one-stop shop for Project Management – from concept / idea, strategy, design, tendering and delivery. They are particularly strong at setting up a job and understanding what goes into a project.
CPM are flexible and work to suit what we need at different stages of a project. Their approach is to collaborate. It's not "we'll come in and tell you how to do it" (as it sometimes is with other firms), it's "we'll come in and work with you".
They don't behave like an external consultant – we work together as a team, they care about the outcome and treat the project as if it's their own.